Clear Comfort's effectiveness against Cryptosporidium parvum
In this study you will learn why Clear Comfort is more effective and efficient at protecting your pool against Crypto than UV and ozone. Crypto, the cause of serious gastrointestinal illness, is chlorine resistant and outbreaks are becoming increasingly common in public pools.

See the results of the independent university study that proves Clear Comfort's quick destruction of Cryptosporidium parvum.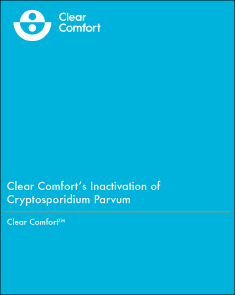 Do you want to learn more about what Cryptosporidium is and why it poses a threat to public pools? Read our FAQ.